Solo Whitewater Inflatable Kayaks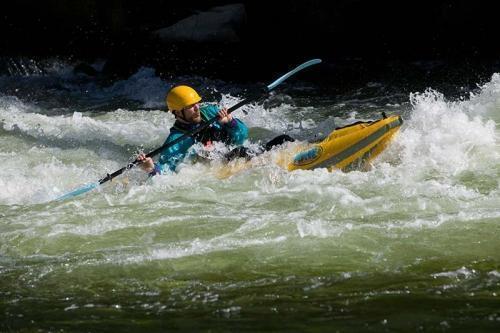 Solo whitewater inflatable kayaks from AIRE, Hyside, Tributary, Innova, NRS, and Incept are found in this section of our website. These models are appropriate for running rivers, fly fishing, hikers who need a portable boat, or kayakers who normally use hardshells but need an option for air travel. Or former hardsheller's who have damaged their shoulders too much to roll anymore. Inflatables are great for beginning river paddlers who want to get close to the water with an easy-to-learn craft. The additional benefit of inflatables is that you can get in and out of them quickly in the event of a swim (no entrapment, no roll required, and super easy self-rescue). These models will generally not track well or go very fast on flatwater since that is not what they are intended for, though some like the Innova Safari are quite zippy, and the Safari even has a removable tracking fin.
Come Summer, there will be a new addition on this page. We are working with one of our raft manufacturers on a new solo river inflatable that will be a foot longer than anything else below, and the prototypes we've paddled are fast & handle well. Most everything shown here now is either ten feet in length, or in a couple cases, nine feet or under.
Depending on the model, some solo inflatable kayaks have nearly as much cargo space as a tandem, making them a nice choice for multi-day trips where it is mandatory to pack all your camp gear, food, drink, and clothing into the boat. The new kayak we'll have later this Summer will have even more space for long self-supported trips. Check out the boat descriptions in this section for the qualities you need: size, weight, performance, and lowest price inflatable kayaks. AIRE logo boat means Made in USA.
[Scroll to bottom of page to continue reading...]


The Don The Cupcake The God
| | | |
| --- | --- | --- |
| AIRE BAKraft hybrid ultra-light, new material for 2019 | Float bags and thigh straps standard | New, deeper design for AIRE Lynx I Inflatable Kayak |
| The sporty but stable AIRE Outfitter 1 solo inflatable kayak | AIRE Tributary Kid's size SPUD Inflatable Kayak | Our AIRE Tributary Strike Inflatable Kayak Package includes a set... |
| A great value in a class IV worthy kayak | The Hyside Padillac K1 Solo Inflatable Kayak is one of the most stable... | The Incept Sally inflatable kayak, also known as the Incept Explore, is a... |
| Innova Safari Inflatable Kayak has a Drybag included. Are you a... | Call for price | Get a free Accent Whitewater paddle now with select Animas solo kayaks |
| Full featured and high performance! | | |
AIRE Factory Tour
[Continued from top of page...]
There are a total of seven solo river kayaks from AIRE & Tributary in this section, with one or two from several other boat makers. We have a lot of AIRE's here for the simple reason that they make more high-functioning models than anyone else. Occasionally people still ask about the old foam floor models that AIRE used to offer on their American made kayaks, but these are only special order with substantial waiting times now. The price is the same, but UPS is higher and weight capacities are lower since the foam pads are 2" thinner than the air floor bladders. AIRE's Tributary line are imported from their China factory, and include the two Tomcats and Strike I below.
Our AIRE and Tributary pricing is at retail because that's what AIRE insists on, however we do give you back 5% toward UPS fees or any accessories you may get with the boat now or later. If you need no accessories and your UPS is less than 5% of the boat's cost - which is often the case with the more pricey U.S.-made AIRE's - we will work something out for you that's agreeable. Additionally, if you want to pay with a cashier's check, you will save another 5%. This can be substantial on rafts in particular, though less significant on something like an import kayak. Email us for a quote. There is no obligation, and we will not spam you with follow-up emails beyond the initial quote.
The Lynx, Outfitter, and Force series AIREs are all built of strong 24 oz. (per square yard) PVC with 1100 denier pre-stretched polyester base fabric on top and 27 ounce material on the undersides. They come with ten year warranties that even cover damage you do to the boat. The Tomcats and Strikes are a blend of 500 denier (the red, yellow, or blue portion) up top and 1000 denier (the grey underside) 32 ounce material on the bottoms. The Tributary kayak bottom coating is as thick or thicker than any of AIRE's more expensive kayaks.
Tomcats come with a more basic one-year warranty. The Strikes have a five year warranty. The difference is due to the side tube bladder material- the Tomcats use a less durable vinyl for those bladders, whereas the Strike side bladders are constructed from urethane like all the Amercian made AIREs. The Tomcat and Strike warranties, unlike those on the American made boats, do not cover damage you do to the kayak. There is no glue used in the production of any AIRE or Tributary product. All the American AIRE boats - rafts and inflatable kayaks - use reliable British made Leafield valves and the Strikes & Tomcats use a Summit valve.
Along with the AIRE's we feature several high end boats from other manufacturers. The Innova Safari and Hyside are made with synthetic rubber coated fabrics, and the Incept and NRS Outlaws are pvc like the AIRE's. We've thought about adding one or two other brands to this page, but we really feel what is shown here represents the best value.
For information about multiple boat discounts, and discounts on accessories that are purchased with your boat, please see the F.A.Q. page of our website or better yet, call us. Revised February 2013.

Towards the end of this movie is an AIRE Lynx II playing a little