Manufacturer: AIRE

Shipping Weight:

122.00 lbs
Description
AIRE Tributary 12.0 SB Fly Fishing Raft price includes free UPS to any lower 48 state address. A 5% price break is available for payments made via cashier's check.
We know a lot of river anglers like to use trailers to transport their rafts, but if you happen to live in an apartment, townhome, or just a place where spare real estate for parking trailers is at a premium, having a raft that rolls up small like the Tributary 12' self bailer can make a lot of sense. This nimble mid-size boat will maneuver in and out of eddies with relative ease, and it has plenty of room for a front casting platform. Or, we can show you a simple low cost way to provide a rigid place for your buddy to stand if you don't need the full luxury of a lean bar in the bow. If you want to get a frame with casting platforms front and rear, the AIRE Superpuma in this section is a foot longer and may serve your purposes better. Then again, a huge three person frame sort of defeats the ability to have a raft & frame that deflates and disassembles to a small size.
AIRE Tributary 12.0 SB Fly Fishing Raft is an Imported model
The AIRE Tributary 12.0 SB Self Bailer Fly Fishing Raft is a raft AIRE brings in from their Asian factory, a production facility set up by and solely for them. The T-12 is built with the same urethane bladders and the same pre-stretched Ferrari hull fabric as the American AIRE's. The 12', 13', 14', and new 16' sizes all come standard with three quick release thwarts. We don't always hear back from customers post-sale, but those we have talked with have been delighted as they have put the miles on their Tributarys. We are no longer in the raft rental business, but if we were we would use nothing but Tributary's.
AIRE Tributary 12.0 SB Fly Fishing Raft Lifespan - A LONG TIME
There are cheaper pvc import rafts to be sure, but whereas the lifespan on a Tributary 12.0 SB Fly Fishing Raft is essentially unlimited, all the other brands are glued instead of being welded and range from 3 to 13 year lifespans, at which point their seams will fail. This means you will be putting all that toxin-laden poly vinyl chloride into a landfill somewhere rather that keeping it the raft use. Among other things, some pvc fabrics, mainly those from a few Asian manufacturers, still contain dioxin. With a welded, bladderized raft like a T-12, you can keep it virtually forever.
These days, since all rafts brands are overbuilt in terms of toughness, what you are really buying is handling and lifespan. And along with their longevity, Tributary rafts score high in the handling department. Add to this that they tend to roll up smaller and weigh less than many competing brands, including the American made AIREs, and the Trib's stand as an obvious first choice for veterans and first time boat owners alike.
Leafield Valves in AIRE Tributary 12.0 SB Fly Fishing Raft
All AIRE Tributary 12.0 SB Fly Fishing Rafts come with the large bore, reliable B-7 Leafield valves. It is worth noting that AIRE does not really have an equivalent to this model in their American made line. The closest comparison is the Super Puma, but that boat is much narrower and a foot longer, and has way more rocker on the ends. The AIRE Tributary 12.0 SB Self Bailer Raft is 12'3" (AIRE says 12' but our tape measure says it's a bit mroe) by 6'1" wide, with a fairly ample 37" inside width. The T-12.0 bailer has 18" tubes and weighs 105 pounds, or 92 without thwarts. Unlike the two larger models, the tubes do not taper at the ends on the T-12. T-12's work equally well for rowers or paddle crews. You can jam six smaller folks in the T-12, but it paddles best as a four or five person vehicle.
The inflatable floor mounts the same way all AIRE raft floors do, with a laced piano hinge system that drains very quickly. Unlike the American AIRE rafts though, the Tributary floors come laced in from the factory. This is significant since it takes one person 2-1/2 hours to lace a 12' raft.
AIRE Tributary 12.0 SB Fly Fishing Raft Warranty
The Tributary 12.0 SB Fly Fishing Raft warranty is five years and it is not a "no-fault" warranty like the U.S made AIREs have. In other words AIRE still fixes anything that is their fault, but if you damage the boat, that won't be covered. If you don't want to deal with a repair yourself you can still ship the boat off to Idaho where AIRE is located, but many repairs can be effected on a Tributary in less time than it will take you to box up your raft and drive to UPS. Remember too that five years is the same warranty you get on many other high quality brands, some of which are far more expensive that the Trib's.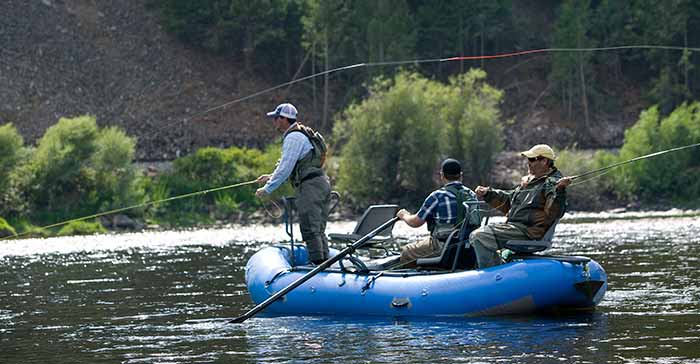 This is a different model and smaller. Frame NOT included. Fishing Poles NOT included, LOL!