Manufacturer: Maxxon

Shipping Weight:

55.00 lbs
Description
Maxxon P10 Fly Fishing Cat pontoon tubes are 10' long, 18.5" around, and weigh 40 pounds per pair. The price shown is for tubes only - frames & oars are sold separately, and we usually have the gray and blue colors. The price does include ground UPS to any lower 48 state destination. The 10' is the smaller one in the foreground of the picture, but there is no longer a circumference seam at the bow & stern where the nose turns up. In other words, the current version is "seamless" except for the lengthwise joint that runs along the bottom.
The P-10's from Maxxon are an ideal starting point for those who want a very heavy duty little rig for river fishing. Anglers on day trips, alone or set up with a friend, will enjoy the responsive way these relatively large diameter tubes slip in and out of eddies. And they will also accommodate solo rowers with a lot of gear & tackle. Typical fishing frames for the P10's would yield an overall width of about 4'10" to 5'2", and would use 7' or 7-1/2' oars.
Maxxon Fly Fishing Cat Cataraft tubes are a beefy and economical alternative to the various American made brands, though they are a glued pvc product rather than utilizing welded seams. From the first year we handled Maxxons, we've sold them with the buyer-beware caveat that eventually all things pvc & glued will come apart. The last fifteen years though have shown that despite the theoretical shortcomings, Maxxon rafts and Fly Fishing Cat tubes really do hold up a long time. "Long time" meaning typically eleven or twelve years in hot climates and up to fifteen in cooler locales. So for the price, this seems to indicate a very, very good value. The downside is that someday in the next couple decades they will have to go into a landfill, whereas an equivalent product from AIRE - which is welded and bladderized - can go 35 years or more with one change of bladders. For more info about the potential pitfalls of glue & pvc see the F.A.Q. section of our site. There is also more information under the description for the Maxxon 14' or 16' sizes
Fly Fishing Cat Tubes - Tough as NAILS
All Maxxon Fly Fishing Cat tubes we stock feature use an incredibly tough 2200 X 3100 denier polyester base fabric, so they are as close to rip-proof as you are going to get at any price, and they inflate to roughly the same stiffness as the AIRE cataraft tubes. All sizes except the special-order nine footers have two chambers per tube, and all but the nine's have four large D-ring patches per side (sixteen for a pair of tubes) and black 1100 denier frame and bottom chafers that average 11" wide. The P-10's are popular with the fishing crowd and also make an astoundingly good solo whitewater rig with a custom rowing frame & 7'6" oars (typical dimensions of that frame being 45" wide and 60" from front to back). In fact, for one person in technical class V water, you would be hard pressed to come up with a better pair of tubes.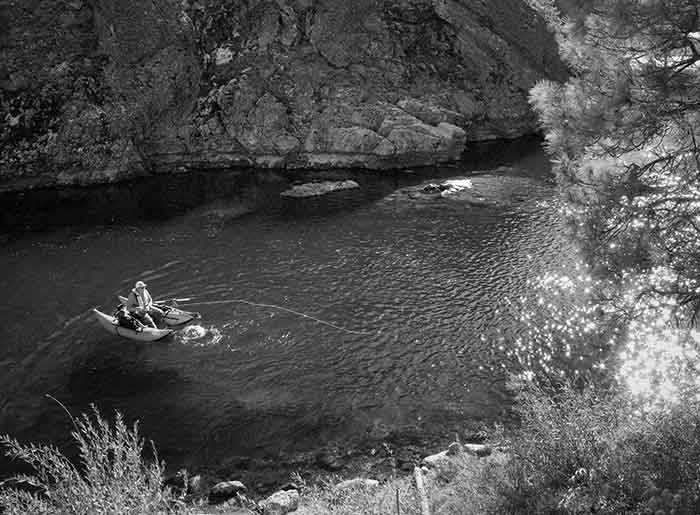 This is a different model and much smaller. Frame NOT included. Fishing Pole NOT included, LOL!